EDILKAMIN HAS BUILT ITS STORY AROUND THE FIRE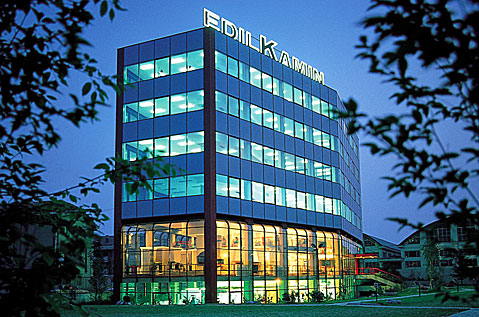 Founded in 1963, Edilkamin has developed to become one of the most important companies in the sector. 50 years of experience and state-of-the-art design capacity, 6 production establishments in Italy and abroad and many branches have lead the company to be appreciated by demanding consumers, aware of stylistically innovative products. In Italy the sales organisation is made up from a network of Authorised Dealers, which cover the entire territory.
THE SHOWROOM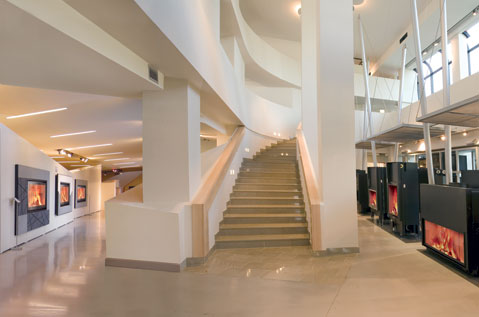 The first three floors of the headquarters in Lainate are dedicated to the showroom: 1000 m2 which present the entire range of Edilkamin products in a state-of-the-art context and with functioning products. Recently an area dedicated to water heating with a range of thermo stoves and boilers and with an example of a composite plant with radiators, radiant floor panels, hot sanitary water production and solar panels.
PRODUCTS OF EXCEPTIONAL QUALITY AND SAFETY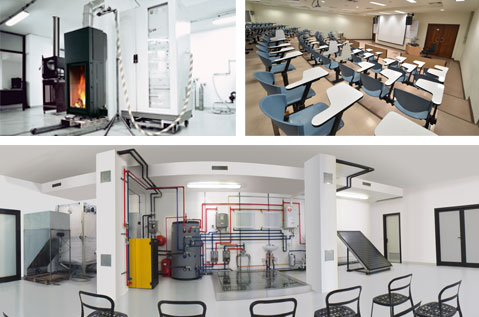 Thanks to its constant dedication to research, technological development and product improvement, and with the help of the Polytechnic of Turin's Department of Energetics, Edilkamin has succeeded in constructing an ultra-modern testing chamber within its own facilities. The test chamber's most salient feature is its Siemens analyser, with Ultramat 6 and Oximat 6 sections. This specialised department allows for the simulation and testing of integrated heating systems, even of a complex nature. Edilkamin's engineers hold technical product training courses in-house for the sales staff, as well as for the company's network of installers and Service Centres. Thanks to its commitment to absolute quality, Edilkamin boasts some of the industry's most important certifications and is capable of guaranteeing maximum product reliability and safety: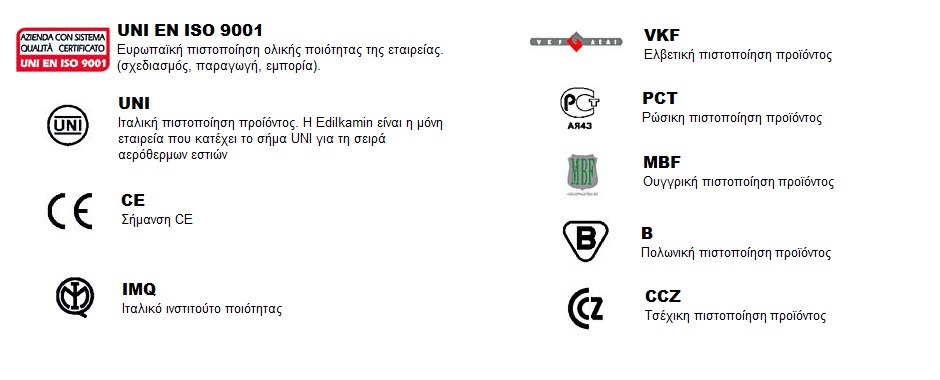 EDILKAMIN INTERNATIONAL STEEL WORKS, SARVAR (HUNGARY)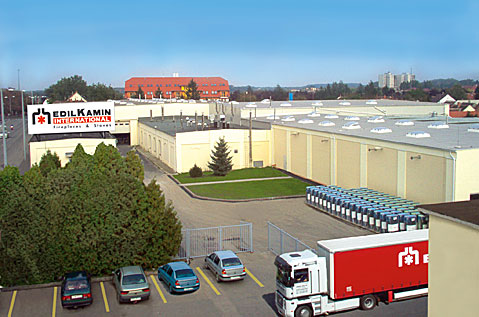 THE MAIN FACILITY IN GABBIONETA (CREMONA-ITALY) IS NOW ECO-FRIENDLY!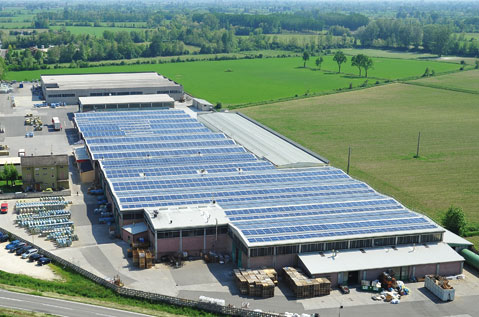 Edilkamin, which always been environmentally-conscious, offering wood and pellets as valid alternatives to common heating fuels, has taken another step forward in terms of eco-compatibility. In June 2012 a 993.6 kW photovoltaic plant, installed on the roof, began operation. The prominence of the new photovoltaic plant is such that it has made the facility fully independent with regard to its electricity needs, ensuring a reduction in emissions of 588.6 tonnes of CO2 per year. Edlikamin's facility in Gabbioneta (Cremona-Italy), where finished and semi-finished products, also made at other facilities of the Group, converge and where fireplaces and wood and pellet stoves are manufactured with a highly automated production process, is the symbol of a culture of development which is increasingly eco-friendly.
For more informations about EdilKamin, follow the link: